The Brownsteins in the Land of Israel
Chapter 9:
Odds and Ends
September 28, 2003
Dear Friends:
Again, I must postpone "The Big Yellow Taxi – Meter/No Meter?" Why? Because I missed too many things on the last installment. No story this time, just a few odds and ends. So here goes: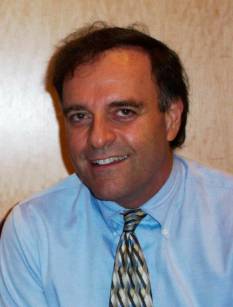 The first returns have started to come in on the Baruch HaGever story. My very dear friend, Bill Dickerman (below) wrote:
1. Autobon is spelled Autobahn.
2. News flash: your hair is already gray; don't worry about the voltage on that score.
Thanks, Bill, I hadn't noticed my hair color.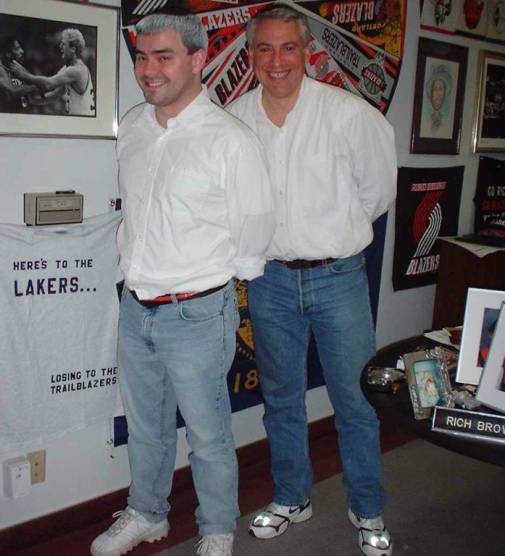 For those of you who do not know what I look like, here is a picture of me in my Burbank office with one of my friends (and employees), Jared Rivet, who dressing up like me last October 31st. I am the one behind.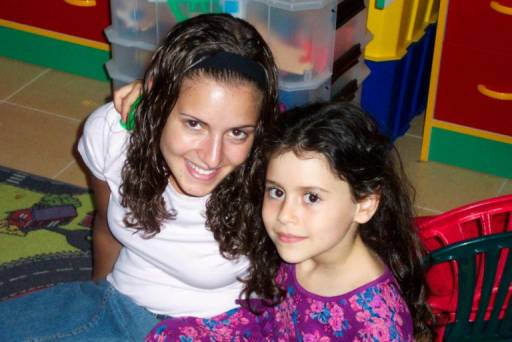 Last time I mentioned my doting, loving, attentive sister, Jois. Well, I have an equally doting, loving, attentive, Jeb, in Baltimore. He spent seven days without electricity last week because of hurricane Ishmael. It seems that is following the Brownsteins this year. Hey Jois: look out in about a month and keep plenty of batteries onhand! Anyway, speaking of Jeb, I am thrilled that Jeb's 18-year-old daughter, Elana Brownstein, is here in Jerusalem for a year learning. Here is a picture of Elana -- my goddaughter -- with Batya, my daughter.
We have now seen Elana several times and feel very blessed. Come visit us more, Eweiner!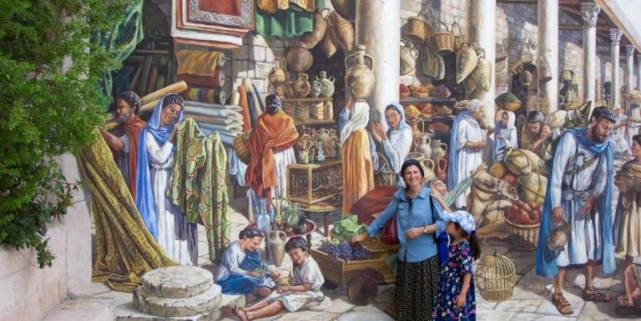 I have been asked for more photos of Sara and of Jerusalem. So below is a "two fer" -- both.
This is a mural in the Old City of an old market. See if you can find Sara and Batya.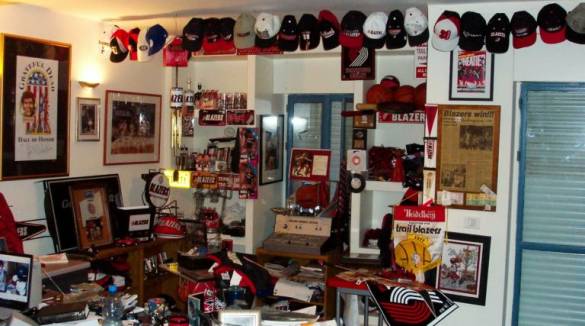 Also, many of you have wondered about our house here in Jerusalem. It is fine, thanks! Anyway, specifically many of you wondered what I would be doing with my Portland Trailblazer Memorabilia collection, which is purported to be the largest in the world. Well, about half of it is displayed in my home office and here is what a little of it looks like: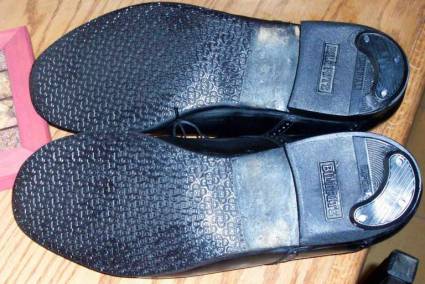 Next, I have attached a photo of my shoes after repair. Yes, I finally got it done.
I wonder if Avi in Lawrence, New York has done likewise. Avi, we await with baited breath your proof.
Finally, as you may know, this is the time of the Jewish year when we ask for forgiveness from the Almighty for our year of imperfection. We also take time to ask for forgiveness from humans. But, since I have undoubtedly offended so many of you over the past year, I must ask your forgiveness in bulk. So, please, for all of you whom I have offended, please either forgive me or write to me and let me know that you are unable to do so. I'll take it from there! I also forgot to wish a sweet New Year to our Jewish readers just before Rosh Hashanah. Please forgive me! Nonetheless, may all your dreams for the coming year come true, hopefully with peace at the top of all of our lists.
Anyway, thanks again for reading this far.
I appreciate and look forward to your comments and greetings.
The part of my adorable niece, Elana Brownstein, was played brilliantly by Elana Brownstein, Bill Dickerman by Bill, shoes by shoes, etc.
As you know, we are in the middle of a membership drive, so please get me the e-mail addresses of people who you want to add. (Let them know ahead of time, so I don't get in trouble with the Spam-police).
Please stay tuned for Chapter 10: "The Big Yellow Taxi – Meter/No Meter?"
All the best,
The Brownsteins
PO Box 8130
91081 Jerusalem
ISRAEL
Phone: 011-972-2-6733-491
CURRENT DISTRIBUTION: 301 worldwide
NOTE:
No digital animals were harmed in the photography of this reenactment.
All characters are purely fictional.
If you want to add someone to this list, or remove yourself, just e-mail rich@brownsteins.net and let him know.
Please freely distribute to those with too much time on their hands.
Copyright (c) - Rich Brownstein 2003
PS: The Jerusalem Post, Jewish Journal, and several others published this short story by Jon Medved, a neighbor of mine.
Our heroes, and theirs, By Jon Medved
Tuesday night's terror struck close to home. The boom of the blast at Cafe Hillel on Emek Refaim shook the windows of our house and left no doubt that we had been hit again this time in our own neighborhood. Our son Yossi was on the phone with his brother Momo, asking when he would be back so they could watch another episode on DVD of 24, the addictive US series about terrorism.
Momo was crossing Emek Refaim, which is two blocks from our house, and they both heard the blast. Momo, 16, a trained paramedic with Magen David Adom, took out the plastic gloves he keeps in his school backpack and began to run the block to the cafe, to help with the injured. Yossi ran out the door with my wife, Jane, to go get Momo.
Momo was one of the first to arrive at the scene. As he described it later, it was a scene straight out of Dante, or Eli Wiesel. Victims were screaming and strewn about. A group of bystanders was attempting to put out a fire that was consuming a man. Amputated legs and arms were lying in pools of blood. A man's head was in the middle of the street.
Momo acted according to the training he received this summer in a course designed to teach him how to handle these kinds of events. As soon as the lead ambulance arrived he was told whom to evacuate, and he helped carry the injured on stretchers. Within 10 minutes it was over, and the amazing Israeli emergency medical teams had again acted with alacrity and professionalism. Momo's mother and brother found him covered with victims' blood and walked him home.
I was in the office when the blast hit, frantic with worry because I could not find anyone by phone. Finally I got a call from Yossi telling me that our family was okay and that we would meet at home.
GETTING HOME and seeing your son's clothes splattered with blood from a terror attack is a parental experience I will not forget. The relief of seeing Momo unhurt mixed with the pain, outrage and grief of an attack so close to home. Momo showered, and together we watched on TV the surreal scenes of our amazing and beautiful neighborhood hit, hurt and bleeding.
Momo was curled up with his dog, Lucy, hugging her and trying to regain some semblance of normalcy. A 16-year-old boy, having done his heroic work and seen things no one should ever see, tried to return to what was left of his adolescence.
We watched the scenes of jubilation in Gaza, with thousands of Palestinians taking to the streets in spontaneous celebration, delirious with joy at the "quality" attacks. Sheikh Ahmed Yassin and others praised the "bravery" of the suicide bombers. Yassin mentioned the "great" Abu Shanab, "engineer" of dozens of Israeli deaths, whose own death had now been avenged.
I was struck by the contrast between the two societies.
Our heroes were out on Emek Refaim and at the bus stop at Tzrifim, practicing emergency medicine, fighting to save lives, reduce casualties. Their heroes were sowing death and destruction, their engineering was the science of terror.
Next morning, as the bright Jerusalem sun came up again over our neighborhood, most of the outward signs of destruction had been washed away. Despite the continued terror alerts and torrent of news about the attacks the day before, the children needed to go to school. We needed to get on with our lives. But the news contained more bitter tidings that took your breath away.
Among the dead in the cafe blast were David Applebaum and his daughter Nava. Nava was due to be married Wednesday night in a joyous wedding with 500 guests. David was a doctor of emergency medicine, a fixture in Jerusalem's medical scene, having treated hundreds of terror victims. He was the founder of Terem, Jerusalem's private emergency medical clinic, and my best friend's partner. He was a learned man, a kind man, a tzaddik. He was a true hero of Jerusalem.
I let Momo sleep in that morning. I had tried to wake him, but he said he needed more sleep. His teacher called to say he had heard from Momo's friends that Momo had had a "tough night." He suggested that after Wednesday's funeral for Dr. Applebaum and his daughter I take him to school, so he could be with his friends and talk about what happened. My son and his friends are true heroes of Jerusalem.
The writer is a venture capitalist living in Jerusalem.