The Brownsteins in the Land of Israel

Chapter 16:

Home in Jerusalem for Passover

April 16, 2004

Dear Friends,

Thank you all for the wonderful feedback you gave me on my last chronicle, "Learning to Read Between the Lines". I am always surprised. Before our Feature Presentation, a few points of interest.

As some of you may know, I am a bit of a fan of the World Champion Portland Trailblazers. (Champs in '77 still counts for me.) As you also may know, my family and I moved to Israel before the start of the 2003-2004 NBA season. And, finally, as some of you might have noticed, for the first time in 22 years the Blazers have failed to make the playoffs. You figure it out.

My dear friends David & Carol White have a son, Matthew, who won First Prize in High School Poetry at the 5th Annual Holocaust Writing Contest. We are very proud of Matthew and if you wish to read his winning entry, click here.

Next, several months ago, my dear childhood friend Tom Fields-Meyer asked me to do a Flat Stanley for his cousin Abby in Boston. For those of us who did not know what a "Flat Stanley" is, Tom told me I was to go around Jerusalem and take pictures of myself in front of famous places. Click here to see what I sent to Abby.

Just before Passover we like to get our hair cut because we can't cut our hair for at least a month after. I always enjoy taking my son Yehuda for a cut. Now, you can enjoy it too by clicking here.

Alan Dershowitz, who is not known to be one who believes that the sky is falling, has suddenly experienced something that is making him rethink that conclusion, at least as far as American Jewry is concerned. Click here for his short article.

Steve Martin wrote an extremely funny parody that contains the purported script notes from a Hollywood producer to latent anti-Semite Mel Gibson after reading his despicable movie script, "The Passion". It is good to see a non-Jew speak out in such an engaging way about something that should outrage everyone. Click here for that.

Along the same vein, I was sent a cute list of things that are peculiar to Israel. My favorite is... Click here for the list.

My dear friend Rabbi Shraga Simmons (whose wife Keren just gave birth to a baby girl, Hanah), sent me this link to a program called "The Homeland Security Threat Monitor". The simple job of the program is to tell you the Homeland Security status (in America). The program is no less contrived than is the notion that these levels make any difference at all in the safety of America.

The following "Quotation Of The Day" was sent to me by my new friend Marc Annis of Calabasas (rural Los Angeles) "We may hate Americans. We may hate them with all our hearts. But all men are creatures of God." Spoken by Muhammad Khalifa, objecting to the mutilation of the bodies of four Americans killed in Iraq.

Also, I have been getting a lot of great feedback for my Jew Of The Day page. My dear (feminist) friend Rachel Andres was bugging me that I didn't have enough women, so please take a peek and let me know what you think.

I have a novel that I just finished and am looking for volunteers to give me feedback. If you are interested, please click here.

And finally, a reporter from the Haaretz Newspaper here contacted me in Israel about doing a story about these chronicles that my wife and I have been writing. These are no longer just our little secret! Click here to see what they said.

Feature Presentation

Home for Passover in Jerusalem

Virtually every year since getting married, my wife, Sara, and I have spent Passover with my fabulous in-laws, who live in Paris. Often we were together in Los Angeles, but we also ate Matzah in their home and also here, in Israel, five years ago . But this year, because we live in the Land of Israel, our annual tradition became a bit more complicated.

Without going into too much detail, those of us who live in Israel have a slightly different holiday schedule than do those in the Diaspora. For example, if you live in Jerusalem, the holiday of Purim is celebrated the day after it is celebrated everywhere else in the world. Also, for several major holidays, we here have fewer days than do Jews in the Diaspora. As for Passover, the rest of the world starts their eight-day celebration of the Exodus from slavery in Egypt with two "special" days (with most of the restrictions of the Sabbath). Each of these first two nights features a traditional Seder where we retell the story of the Exodus. Also, the last two days of the full eight day holiday are these "special" days, yet without the Seder. But those of us living in Israel only celebrate seven days of Passover, with one Seder night at the beginning and only one "special" day at the end. So, to make a long story short, we needed to find a way to accommodate all of our needs, meaning a way for my in-laws to have two Seders and the correct services. So this year we decided to spend Passover here in Jerusalem at a hotel that had appropriate services and meals for everyone.

Nonetheless, even though we weren't going to be home for Passover, the preparation for Passover -- cleaning all the chametz (bread and other things made from grain) from the house -- is a special joy that my wife still undertook. Than, on the

night before Passover, we went though the traditional "search for chametz". After "hiding" individually wrapped pieces of bread, we turned out the lights (and, of course, we turned on the video camera for posterity) and a child (say, a big sister) holding a candle ceremoniously "discovers" the last vestiges of bread. Then another child (say, a little brother) ceremoniously sweeps the little chametz package into a paper bag with a feather, being sure to clean all around the spot where it was found for any chametz dust. (Since my son's favorite movie is Dumbo, this "magic feather" idea was perfect for him.) When all is found, the bag is safely put away until the morning, when it is ceremoniously burned.

So, on the morning before the first night of Passover, out to the backyard we went to incinerate our remaining chametz. I must tell you, I never

would have imagined encountering the aroma that greeted us. When we went outside it was as if the entire city had been burning bread. It was as if we were in a city of Jews. It was as if we were at home in Jerusalem for Passover!
After arduously loading up the Kia minivan, we started off on our intense 20-minute journey for the big cross-city trip to the Promised Land, the tallest spot in the sovereign City of Jerusalem -- Crown Plaza Hotel (a Holiday Inn on steroids). While struggling to load the back of the minivan with far too many suitcases, we all had in mind how our forefathers must have felt as they left Egypt in such a hurry that the bread did not even have time to rise. Hence, matzah. (Our bottled water had become almost too warm to sip.) Along the way, the rich aroma of burning chametz continued to fill our eager nostrils. At one point I found myself staring at a huge bonfire filled with charred Captain Crunch and Double Filled Oreos. Unfortunately, due to my lack of focus, I suddenly found myself on the wrong side of a sea of traffic --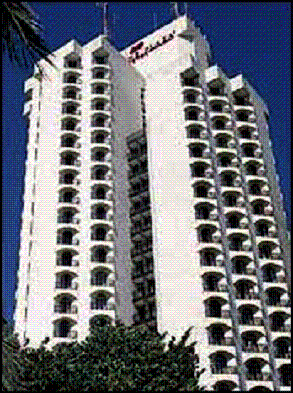 five lanes from the other side, from safety, from liberation -- with no place to turn or retreat. With some of my fellow travelers in the car complaining that we never should have left home, and with others asking if I had just taken them from relative safety to perish in the desert of carland, I got a premonition. Raising my arm out of the car, I authoritatively motioned for the waters to part. And before you could say "holy plagiarism", the street was miraculously clear and we found ourselves in the hotel parking lot singing a song of praise to the Almighty.
Our family was generously greeted at the hotel by our friends the Stepens and their kids, the Lazars, visiting from Long Island. These returning characters you might remember from my chapter, "LA Trip: Stranger than Fiction". The Lazars were the kind souls who rescued me from the Great Northeastern Power Outage. I mostly mention them because Avi -- the father -- tells me that he only prints out my chronicles for his family to read when he is mentioned in them. I also mention this great family because of the masterful way Avi led the Seder that night. Indeed, not a single word was left unsaid or undiscussed.
On the second day of Passover (the first non-special day for us), my wife and I decided that I would take the kids someplace fun while she hung out with her parents, who were enjoying their special bonus Diaspora day. Sara didn't have to ask me twice; I was thrilled to leave because, to be honest, I was already getting a little tired of the Crown Plaza Hotel. Don't get me wrong: we got a great deal at the hotel and I knew it wasn't the King David or Inbal. And, of course, in most cases, you get what you pay for. So what was the problem? Well, as it turns out, this once mighty hotel atop the city seems to have lost some of its, well, pizzazz. Originally built as a Hilton many years ago, friends here tell me that the tower was very important to the city because it was so prominent and visible. But now it is simply a very dated 21-story rest stop owned by Holiday Inn. And, believe me, it is truly a Holiday Inn. The toilets are the slow American type. The built-ins are falling apart. I could hear children in the hall running and screaming at all hours. The smell of floor polish and other petrochemicals constantly permeated my senses. And even our 14th-floor room door showed unmistakable signs of having been damaged during a theft. So, needless to say, I couldn't have been happier to venture out with the kids.
Sara suggested several places of would-be fun, all of which seemed to me to be way too crowded. Instead, I suggested something a little less asphyxiating: taking the children back to the Jerusalem Zoo. So, off we went, with a backpack full of sunscreen, caps, boiled eggs (snitched from the hotel breakfast), and of course, matzah. Maneuvering the Kia into the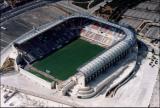 vicinity of the zoo, we encountered a roadblock, which is not news here. In fact, with the country on the highest alert possible for terrorist attacks, it was actually more of a surprise that we hadn't run into a roadblock earlier. Ten minutes later at the front of the line, I was told that the zoo was full of cars (and probably people, too) and was given a flyer that directed me to park my car at "The Teddy" (the Teddy Kollek Stadium, named after Jerusalem's most famous mayor), and then instructed to mount a bus-shuttle to the zoo.
Post-shuttle, admission paid and safely inside, Yehuda, my 5-year-old, quickly became bored of the animals. I said, "but sweet-boy, that's all they have here. It's a zoo!" Not seeming to care what I had to say, he let it be known many, many, many times that he

desperately wanted to take the tram around the zoo. It's a pretty corny ride -- just perfect for Yehuda. But, unfortunately, because the zoo was so full, there was no room for the sidewalk train. As you might have guessed, Yehuda was very unhappy about this. Very. And he let everyone know about his vast disappointment. So I tried to use reason with him. Then I tried reverse-psychology on him. After that didn't work, I drew the last dart from my pathetically inadequate quiver of fatherly tools: "Let's go get some ice cream!" The next time that doesn't work with my kids will be the first it doesn't work.
But have you ever looked at the ingredients of chocolate-covered ice cream on a stick? What are the chances that some chametz is

not used, like, say, corn syrup? So I feebly approached the vending cart and asked in Hebrew if everything being sold is Kosher for Passover, expecting to be laughed at. Giggling, the vendor said, "Betach, baby!" -- which means, "of course, sir". Still not quite sure that this kid with the yellow Mohawk was quite as stringent as we require, I asked to see a package. And, sure enough, it was all certified as Kosher for Passover, including my Diet Coke. With that out of the way, the kids and I spent the next few hours looking at animals and discussing why they couldn't have more ice cream.
The next day I decided would be a little more tame. So I called Shraga Simmons (who is Aish.com and is HonestReporting.com) to arrange a visit with him and a half dozen of his little rabbis at a park near his house in Modiin, about a half-hour drive from Jerusalem. Knowing how much better the drive and trip would be if the kids had full stomachs, I went where any normal person would go to fill their kids: the local mall. Unfortunately, most of the places I would have taken the kids were closed because the owners probably didn't think it was worth the expense to become Kosher for Passover for just a few days. But one particular place did have its doors wide open: Burger King! Both of the other times I had gone there I was amazed that the King was kosher at all. It wasn't just that they couldn't serve cheeseburgers; they also couldn't use lard for their fries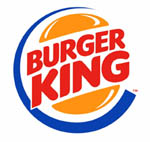 or use anything else that one might have expected. But we saw the Passover certificate and had eaten fine meals there before, including non-dairy ice cream. I suppose I shouldn't have been as surprised as I was. Business is business.
The Passover menu was distinctly limited, however. Basically we had a choice of matzah, hard-boiled eggs, horseradish, and a shank-bone. Just as I was about to get three shank-bone "ecstatic meals", the worker pointed to the overhead menu; I realized that I could actually still get a burger and fries, or even "buffalo wings". When the food arrived, we found the burgers were covered with buns made from matzah-meal. And who would have guessed that each "ecstatic meal" came with a little red, plastic brick that reflected either our bondage in Egypt or the feeling in our guts after several days of matzah. The fries were great; the bun was, well, a nice try.
Back on the road, we passed through heavily defended enclaves and sobering checkpoints. These were not the same roadblocks we had encountered inside the confines of the city, where the soldiers are generally chatting it up between cell-phone breaks. Here, in the middle of the West Bank, I saw soldiers behind sandbags with M-16s aimed and ready.
We got to the park, played soccer with Shraga's kids for 30-minutes, and came back to the hotel for a well-deserved swim.
The next day all six of us went to a lake near Tel Aviv and rented a rowboat. This was quite a kick for my kids -- seeing me row for an hour while they ate hard-boiled eggs (swiped from the hotel breakfast). Near the end of our trip around the incredibly green, murky lake, while we were stopped for a moment, four boys in a foot paddleboat saw fit to ram us gently. No damage was done, but it was pretty rude to ram a row boat with kids and old people aboard. However, it was not nearly as rude as when they did it again.

This time, however, I allowed myself the luxury of informing the adolescents of my feelings. Knowing that I had just positively impacted their behavior, and thus, their lives, by teaching them right from wrong, I turned to my wife, kids, and in-laws and started to row again. And then, just as my pride began to dissipate, my new friends in the foot paddleboat hit us a third time! There is a bit of a disagreement in my family as to what exactly happened at this point. My children are of the considered opinion that I accidentally splashed the boys with an abundance of disgusting lake water, but that they deserved either to be splashed or drowned. My wife, however, suggests that a person who grew up on lakes and with oars probably took perfect aim, delivering about a gallon of well-deserved gunk on top of the startled and then screaming young men. I am not sure which theory is correct. About an hour later, the kids were back in the hotel's very clean swimming pool.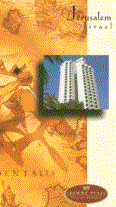 The seven days we spent at the Crown Plaza were great, but, as I said, that had little to do with the accommodations. Sure, I got my 8,000 calories a day. My kids loved the pool and buffets. And I really didn't mind too much being beaten in the board game called Risk twice by the Lazar children. (Well, maybe just a bit.) The only issue was with the hotel itself. So on the last night of Passover, when thinking about my return home, I was far from heartbroken.
That night, with the kids and Sara asleep, I went out to the balcony for a little non-off-gassed air. Quietly I stood, looking over the city. It was not the view I would have initially chosen; I could not see the Old City or my neighborhood. Nonetheless, I must say, with all sincerity, that the moment at hand was worth enduring the many mild imperfections of the once-great tower. Looking down directly in front of me, I saw the sparkling new Foreign Ministry building, where I had held a meeting with a new friend six months earlier, discussing ways I might help improve the situation here. Just to the left of it was the gorgeous new Supreme Court building. Behind that was the Knesset, the Israeli Parliament. Looking out, it occurred to me that I was finally familiar with my new surroundings, after 9 months here. Way down the hill I could see "The Teddy" where we had parked a few days earlier. To my right I could clearly see a building where I had created a video for HonestReporting.com during Chanukah.

And, most stirring of all, I looked out across the nearby Menachem Begin Freeway at the Renaissance Hotel, where my family and I had settled for our first three days as immigrants in July. I remembered how utterly lost we were and how foreign these same roads were. I recalled arriving in the middle of the night, laden with the 15 suitcases and boxes that held the belongings that we lived with during our last month in L.A. after our lift had taken everything else.
I will sooner forget the week of toxic odors that emanated from Holiday Inn, than I will forget the warm spring breeze at that moment when I found myself at home in Jerusalem
Anyway, thanks for reading between the lines this far.
I appreciate and look forward to your comments and greetings.
As you know, we are in the middle of a membership drive, so please get me the e-mail addresses of people whom you want to add. (Let them know ahead of time, so I don't get in trouble with the spam police).
Please stay tuned for Chapter 17: "The Dentist."
All the best,
Rich Brownstein
PO Box 8130
91081 Jerusalem
ISRAEL
Phone: 011-972-2-6733-491
CURRENT DISTRIBUTION: 430 worldwide
NOTE:
No Happy Meals were harmed in this story.
All characters are purely fictional.
If you want to add someone to this list, or remove yourself, just e-mail rich@brownsteins.net and let him know.
Please freely distribute to those with too much time on their hands.